---
(Writer's Note: I know that this is a pretty late update for blog posting standards, but it's better late than never as the old saying goes.)
Prior to the end of 2022, I wanted to add a few things to the portfolio and have a slow leak of new things in the early start of 2023. Those new images were a couple of new versions of the classic title, 'Crank' – both a female and male version. Just for the record, as a competitor I'm always trying to better myself and not rely on the classic, 'Crank' image, which has been my signature piece, but as an artist it's good to have that 'ace card'.
The female version was done right before New Year's Eve and it was a quick project due to the lack of pads, gloves and helmets, which in the male category takes up a lot of time.
As for the new male version, I wanted to update it with the popular XRS helmet from Cascade, compared to the Pro-7 one back in 2009 when the first version was done. The funny thing is that on social-media you will find that Pro-7 helmets are always popular topics. And for the record, I still own two, original Cascade Pro-7's.
With the new 'Crank-23' image, I decided to add it to also make another version of this popular classic in 'The Perfect Form' (Series). Because, why not, right? :o)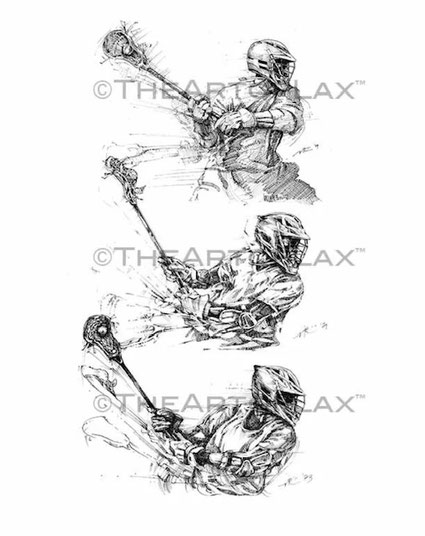 There you have it for the things in the 'What's New?' department. More 'new things' to come in the pipeline, so stay tuned for that!
Best,
Vinnie
(Founder, The Art of Lax™)
#ForArtForLax
---
All images © Vincent Ricasio of The Art of Sports, LLC.