---
(Writer's Note: This is the second part of a Father and Son series of custom art orders. 
A second custom art piece was done in the Father and Son theme; unlike the first one this piece was commissioned by the son.  It was to highlight his Dad's final year as a HS coach and to thank him as the person who introduced him to the sport.
The composition was to show both players in their respective uniforms, or times, that they played their competitive lacrosse.  For the son, he wanted to have him in his collegiate outfit and the Dad in his old school-era of bucket helmets, bulky L-35's and non off-set sticks.

While the son had an existing picture of himself in college, his Dad did not have a picture of him playing and that started my research.  As a history buff these are some of my favorite challenges and moments in creating original art to the customer's specifications and requests.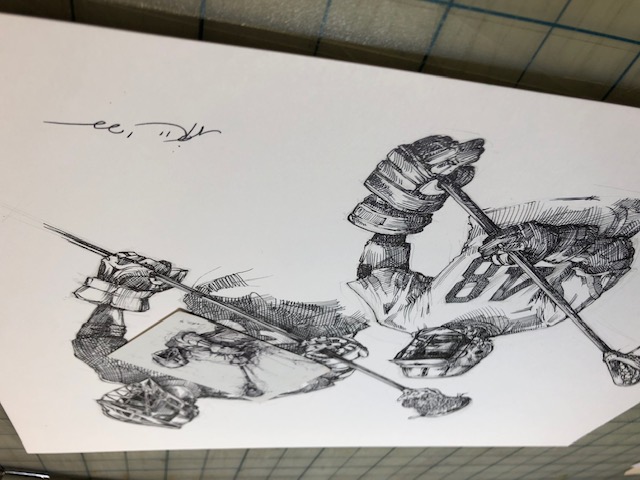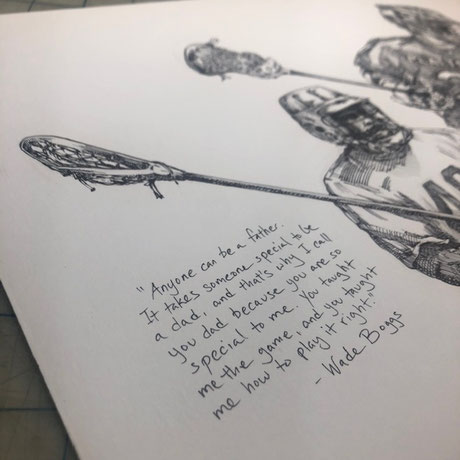 Another cool thing about this piece was the Dad attended the same high school as I did and that had me locked in during the execution of the drawing.  As the piece was getting close to a finish, the son requested a personal note to his Dad to be placed in the original piece, thus finalizing the project.  The personal quote was from former MLB standout and Hall of Famer, Wade Boggs.  The finished piece, below.