He was the guy with the classic, orange football pants in goal for Syracuse. You know, the guy who was teammates with the Gait Brothers, Marechek and '89 champion – Matt Palumb! A recent Face-Time with the legendary lacrosse goalie, now college and PLL referee had us talk about his early start as a ref, some memorable moments in goal, as well as how the game has changed for the goalies. Because we both are goalies. :o)
"You can yell at a ref..." :o)
Matt Palumb got his start as a ref during his summers as a way to make some extra cash, not knowing that it would make him the high profile person we know and see on ESPNU and other networks that showcase lacrosse on TV. While it was a different role and responsibility from a player, his being on a lacrosse field made the transition and learning process, smooth. Sampling and trying new things – you can say that naivete works! I told him as a head coach of a HS program, I never yell at officials because I know what they are going through. Matt responded while smiling, "You can yell at a ref if they are slow at their job." :o)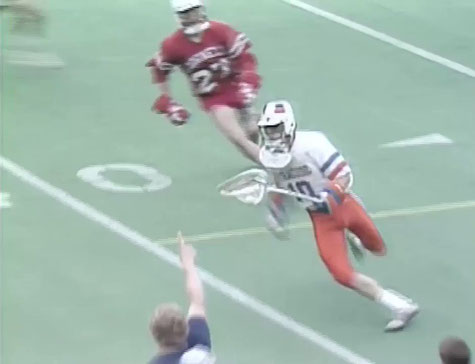 The Orange Football Pants.
The football pants were his trademark identity on the field. We know the story of him wearing it to hide a brace on his leg so that opponents wouldn't see that as a 'weak spot'. But I asked him, "Did you ever get made fun of for wearing those in games?" Matt replied, "When you're winning, nobody makes fun of you." Again with a smile on his face.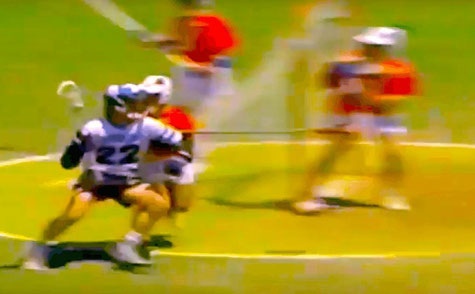 '89 National Championship Game.
Aside from it being classic Hopkins vs. Syracuse, this was also known for being the game with the 'yellow goal' creases. Hopkins was up with quite the lead and Syracuse fought back. I asked him why the '89 game is considered one of the best games ever, his response, "It was the best against the best. Paul and Gary Gait vs. Pietramala and Voelker… Marechek and Panetta… Hopkins vs. Syracuse."
Looking back at that game, Matt admitted that he was, in his own words, "a bit off for 59 minutes" but it only took "one minute to make his best save…" to help protect and seal a 13-12 victory for Syracuse. As a goalie, I can relate to that.
50%
And since we are both goalies, I had to ask him if the game of lacrosse is getting to be unfair for goalies? "Yes!" was his answer. I told him that I had to personally change my goalie style as the game evolved with product innovation, rules and other things that seem to make it hard for goalies. We laughed how 'stepping to the ball' is over-ratted and just getting a slight piece of the ball is better than nothing. We came to the conclusion that a save percentage of 50% is now the norm for goalies.
Basketball Ref.
Along with HS, collegiate and PLL games, Matt also refs college basketball – which I did not know! Would we see him in March Madness? We gotta' watch to find out.
It was a very fun conversation with Matt. I really enjoyed and appreciate his taking time to talk and tell a lot of stories from his side of things. He was presented with a signed print of 'Alf Jacques – The Stickmaker', which surprised him and I because it was also his birthday week, which made for a great early birthday present. Thanks, Matt! :o)