---
(Writer's Note: Welcome to the second installment of this series.)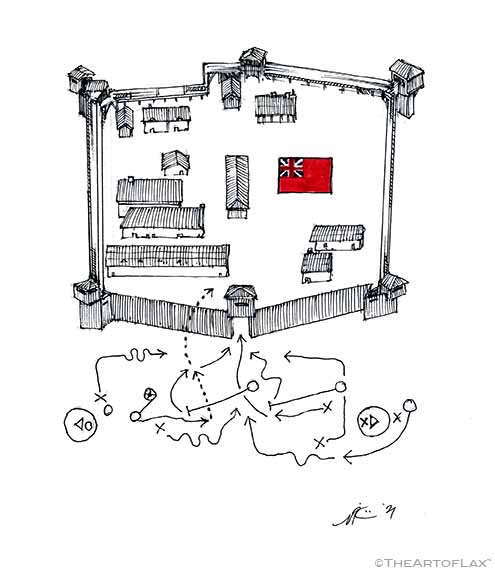 Deception has played many roles in military history. Prior to D-Day on June 6th 1944, the Allies who utilized agents, or spies, to gather intelligence also consulted with many non-combatant roles, such as artists, magicians and actors to help sway the enemy. To this day not a lot of people, or fans, know how Ojibwe Natives in present-day Northern Michigan used a game of lacrosse, or 'Baggataway', to capture a British fort in 1763.
Fort Michilimackinac as it was called was also a trading post that strictly controlled a lot of the area and how it operated. The Natives came up with an idea of using the open space outside of the fort's main gate as the area, or field, to hold a traditional lacrosse game. To make it authentic looking, women and elders lined up the edges as spectators. Once the 'game' started, the British garrison inside the fort watched the contest from the safety of its walls.  The main gate eventually opened up letting some of the garrison outside to closely observe. Soon enough the ball was purposely flung over the walls and the Natives took advantage of the now vulnerable fort. With weapons in hand that were discreetly brought in by the women and elder fans, the entire British garrison was overwhelmed.
Today it is a tourist attraction under Colonial Michilimackinac State Park and a designated National Historic Landmark.
Strategy and manipulation have altered many courses and the outcomes in human history. And in this case it was a traditional, Native game called 'Baggataway', or also called: 'Little Brother of War', that is considered the oldest continuing team sport on Earth.
Vinnie Ricasio (@TheArtofLax)   Ryan Thayer (@LaxBrand)
All images and artwork ©TheArtofLax.
---