---
Back during the Memorial Day weekend, I attended the Div. 1 Men's Lacrosse Championship game between Cornell and Maryland with my oldest son. It was the first time I attended the Championship weekend since 2010. But during that experience, I finally met up with an old friend, former high school teammate, dorm mate, customer and client of my business for the very first time in 27 years.
 Mike Gagliardi was the first person I met on move in day in boarding school back in Sept. 1992. A native from Syracuse, NY he, or 'Gags' as he was called, along with his roommate – a person from Binghamton, NY – introduced me to the legendary names of the Gait Brothers, along with anything related to Syracuse Lacrosse. As a budding lacrosse fanatic from New York City, Mike and his roommate, John, were my major introductions into what is, at least from my perspective, a healthy obsession into a sport that has enabled me to have a professional career in the commercial, graphic arts.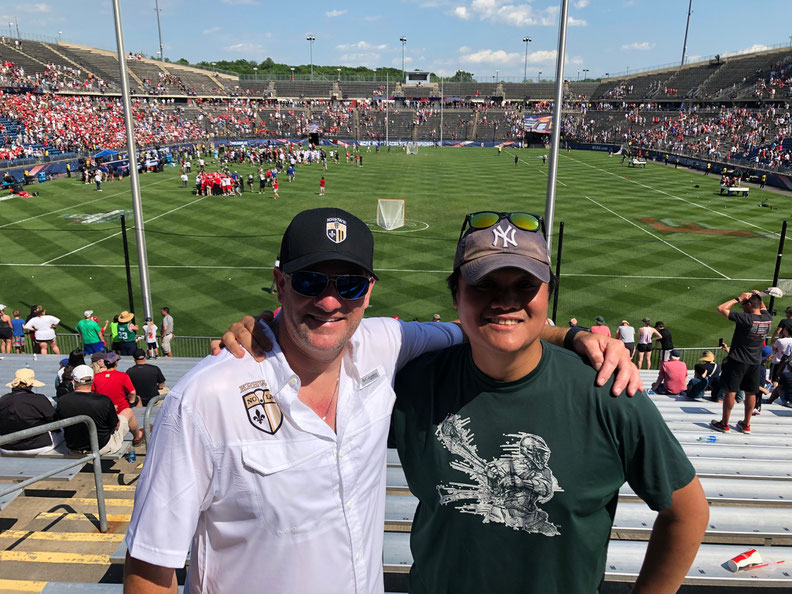 Mike Gagliardi (left), at the 2022 Men's Lacrosse National Championship.
During my four years in boarding school we were dorm mates twice. Mike saw my lacrosse drawings and doodles, which were done during class and hung up on my wall for others to see. While he admitted his lack of being artistic, Mike always said positive things about the lacrosse art. And what he may not have realized, just like me back then, was his witnessing a business that started 'in-spirit' through heart, passion and enthusiasm.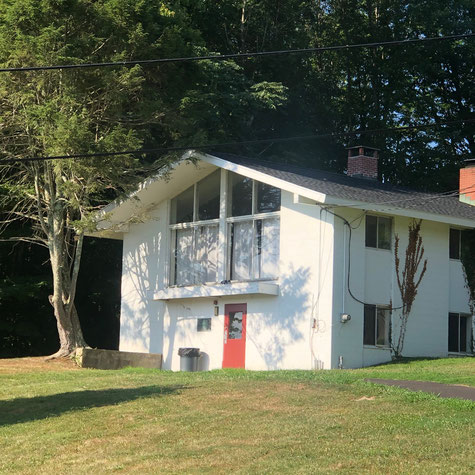 Bartlett Dorm, room #3, located on the South Kent School (CT) campus is where 'The Art of Lax' was started.
Fast-forward to the present, Mike became a customer of The Art of Lax™, eventually owning almost every piece of product that I helped produce with manufacturing and retail partner, Crankshooter. He also had me design his logo for club lacrosse team that he coaches/ed in his now, state of residence, Louisiana.  But it wasn't just lacrosse-related creativity; Mike also commissioned me to execute graphite portraits of his kids when they were just newly born.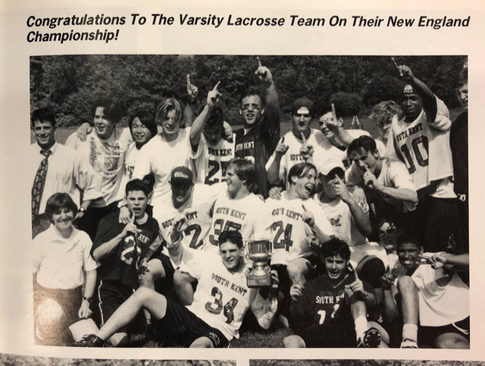 Winning the New England title in 1995. Gags is in the front row (#34) holding the trophy. I'm in the middle row, kneeling with white hat on and hand in front of my face. :o)
In this pic, 6 people lived with me in the same dorm where The Art of Lax started. 4 people in this pic became customers of the business.
To me, our meeting up on Memorial Day became the highlight of that day. It wasn't Maryland beating Cornell in a close match to win a National Championship. We caught up, talked about our time and reconnected with updates from other names in our boarding school days – a simpler time compared to parental-life. And while we tried to speak in a mature, grown up manner considering our sons were with us, we couldn't help but act like teenagers from time to time. We left that day hoping that it wouldn't take another 27 years to see each other again.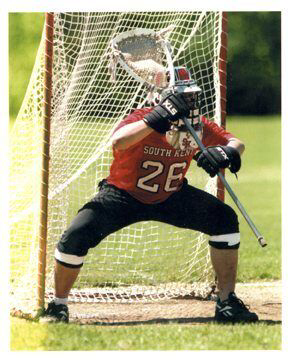 Me defending the goal at the final game on my high school career in 1996. This would be my last official lacrosse game until the summer of 2002.