---
 I wanted to have a goal of at least four (4), new images to the portfolio by Labor Day. I did that! But the search for a fourth image made me revisit, or go way back to the beginning when The Art of Lax™ was just an experiment sort of speak.
That month I gave myself the personal goal to create 24, pen and ink images by the hard deadline of my 30th birthday on November 16th. Those drawings would be exhibited, or tested, to the crowd at the 2009 US Lacrosse Convention in Baltimore. One of those neophyte drawings was of a face-off play, simply titled: 'The Face'.
 That was it! A fourth image was to be a fourth version of 'The Face'. Aside from 'The Face', other face-off-themed images exist but are titled as 'Down, Set...' You can pretty much tell what's going on, but in this version I wanted to focus solely on the heads, gloves and sticks of the opponents
Like a face-off player, I was head down, digging deep into the creative process. I was reminded and kept on thinking how many times the face-off would be looked, studied, revamped and so on, rinse and repeat. I thought back to the time when face-off players played both offense and defense, and a FOGO wasn't a common 'household lacrosse' term.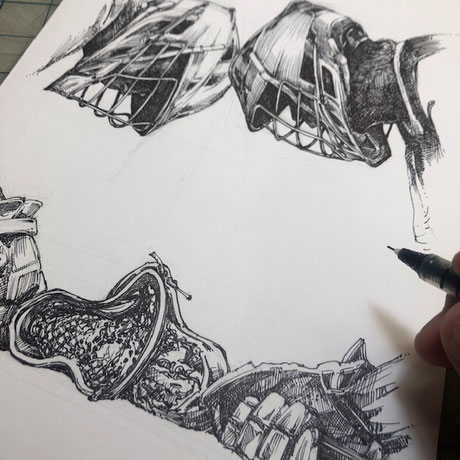 And just like this new image for what is now a business, the face-off will always be going through many tests, or versions. Everything does in order for innovation and most of all: growth.
'The Face-4'. 2022. 8.5x11 inches. Pen and ink on bristol board paper. Click to purchase.