---
I have a Rolodex – more like a memory list - of ideas for new images to the portfolio. The new piece 'Onward' was one of them in the shuffle for quite a while. I wanted to do a new piece illustrating strength, quickness, focus and determination, but most of all a traditional, Native American historical theme instead of modern-day.
In art school, we would draw like nobody's business. Drawing was a way of life because the ability to draw was being able to 'visually communicate'. One of the main subjects in drawing was the human figure, whether clothed or nude (which was mostly the case) you had to endure it. Professors would be watching over your shoulder constantly looking at your hands on the drawing pads and the figure on the podium. Poses would be either long, or just a few seconds. Depending on your professor, if they said nothing that to me was fine, while some professors would let you have it on the spot.
Doing this piece made me think back to the many drawing classes in art school. But instead of timed poses conducted by a professor, this was a personal project, and I wanted to make sure that I enjoyed it.  To aid in the human anatomy, I referred to the many figure drawings of my favorite artist, Leonardo da Vinci, along with a few art books in my studio.
I wanted to show the Native American figure doing the standard, one-handed cradle and the process of going into a dodge. The stick was also a primary focus, with the crude stringing of the pocket and the imperfect, carved handle, clearly going against today's belief, and saying in lacrosse of "look good, play good."
As the final marks on paper were being done, the thought of the coming up with a name for the finished product was top of mind. Looking at the human figure and the body leaning in, heading into a challenge, I couldn't help but to think of 'Onward' – going in a confident direction.
To purchase, click here.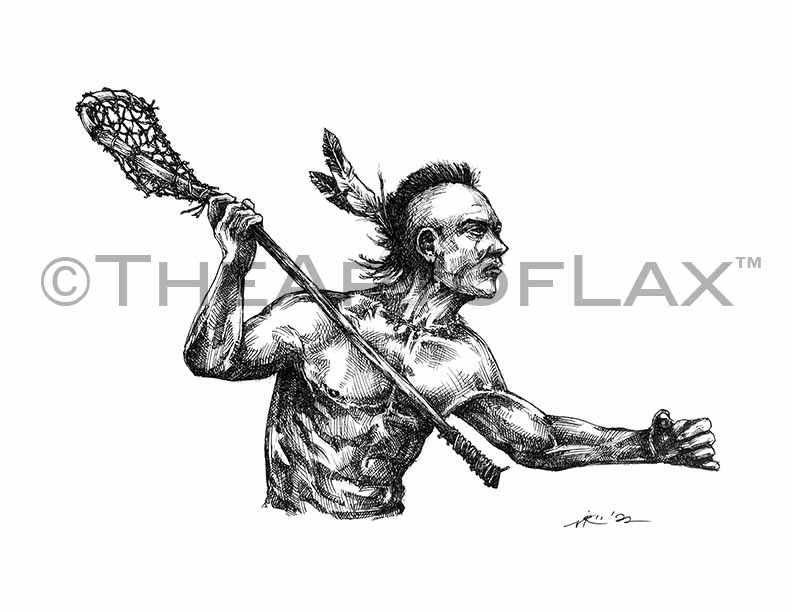 ---