As a parent, I can look back at a number of past birthday gifts for both of my kids. Some of them lasted a 'hot minute' having lost interest after a few weeks or months. To celebrate a 10th birthday, I wanted to give something that's not mass manufactured, generic and will ONLY go up in value during time - a piece of original art.
My son plays the same position as I do in lacrosse - goalie. It was never forced on him but when other teammates didn't want to continue 'in the cage' after trial periods, he knew that our past casual backyard shoot around sessions in the cage were going to be a bit more serious. During the season, his confidence grew and his success as a goalie stepping in at the last minute was paying off.
Prior to a game and warming him up in goal, I took a picture of him touching the goal posts, as if he was talking to them and getting in his own head. That picture, which he never knew I took, was going to be the reference pic to replicate.
As his father, parent coach and player, I was so proud to see him develop though lacrosse. As an artist executing the piece, my mind was so attentive with the subject matter as this wasn't a typical client project. Here is the process of the piece.
Pencil stages gave way to the inking lines. What was hard, at first, was doing the Stallion helmet, which I've never done before. First time for everything, right? Soon after the watercolor wash and layers entered into the mix of things.
Shades, hues and values then gave way to create and render the lacrosse cage. Aside from the human figure being done, this was also a very important part and prime focus in making the piece standout. Oh, and that goalie stick mesh - WOW, is that hard!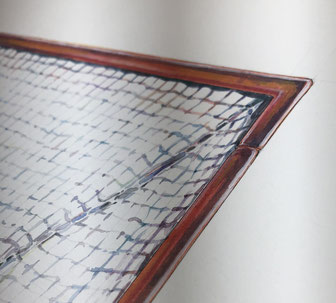 Goal posts and nets are never just pure colors in orange and white, respectively. As an artist and an athlete in the goal, I notice these things each time I'm on the field. I wanted to put a lot of attention in these elements and make them authentic as possible.
As things were coming out exactly as I wanted it to, it was time to start doing the final highlights and touches to make things pop out and finally call this piece a finish.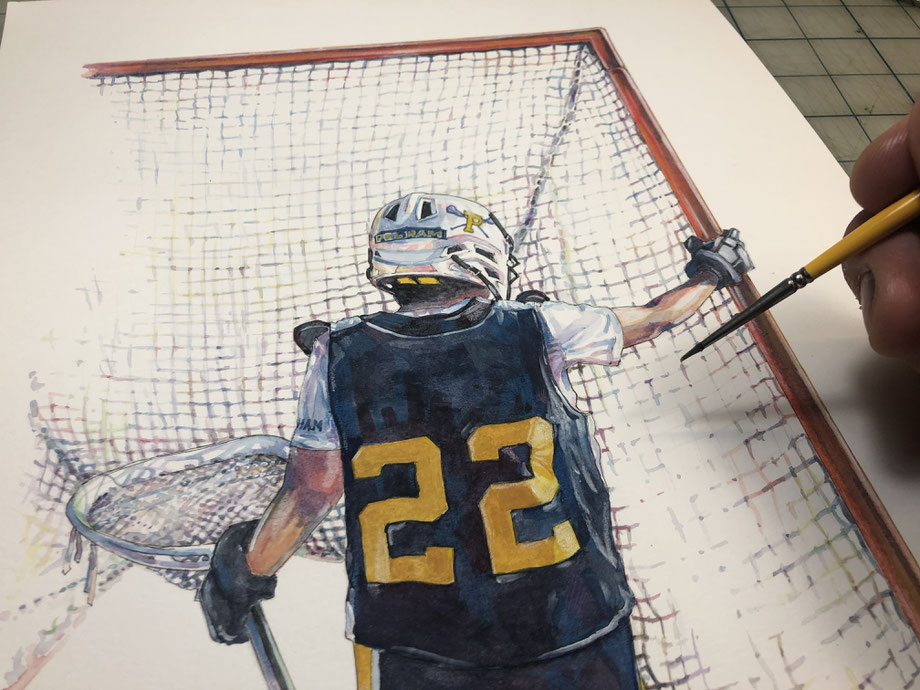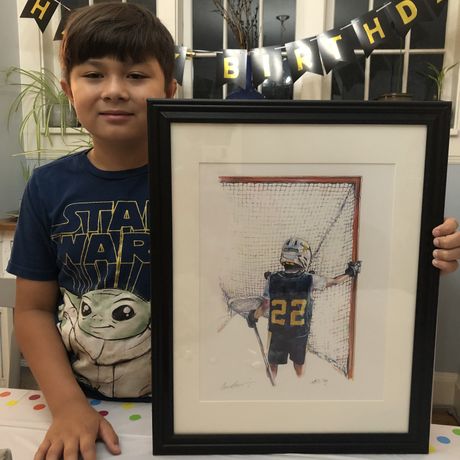 Happy 10th Birthday, Reid. I'm always so proud of you!
Love,
Dad